Following on from my re-post of 'A Seasonal Thought', I thought I would share a current up-to-the-minute seasonal snippet. At around 16h15, when the sun is slipping below the horizon and the sky reflects all the colours of a dying day, I lavish a little hygge on my home. Over the years it has become a comforting ritual that has rubbed off on my girls. Its part of what we do in our home, part of what it means to embrace these cold months and part of what I'm sure will be carried into my daughters own homes and families one day.
I light candles to create that cosy atmosphere. If I don't do it then one of my girls do. Its an action that is automatic, unthought of, it just is...
It's our way of embracing the shorter days, not resenting them. It's a way of enjoying and defining what it means to be home in winter. The little jar pictured above I made three years ago and each year it comes out and lights up a dark corner of our home. I LOVE the little characters that dance and flicker in the soft candlelight.
If we happen to have a wood burning stove as we do in our new home, then we light a fire. My youngest daughter has taken on this task and enjoys the ritual of doing so. This evening I thought I would make the fire, "No mum!" she said, "You know I like to do that." 😊 So I stepped away and let her partake in her own little bit of hygge.
I find the dancing flames mesmerising, it's just so 'right' for this season.
Finding corners of my home to reflect the current season is something I look forward to and relish. I tend not to do this in summer as we are outdoors more, but the other three seasons provide plenty of inspiration and indoor time to enjoy these little touches.
In my kitchen, I have hung up a string of autumnal flower fairy bunting displayed a few hand-crafted pumpkins I've received from lovely friends, and have the adorable little painting my daughter did for me last year and my seasonal country cookbook which reflects the essence of Novembers celebration - bonfire night, on display.
Looking forward, because can you believe we are almost half-way through November already, I have a little Christmas inspired reading on the go. Landlove magazine never disappoints. It is my favourite magazine and is always packed with seasonal inspiration. The book I'm currently reading is 'A Country House Christmas'. I picked this up at a National Trust house we visited. It's the account of one Christmas, the celebrations and family relationships, of the family who used to live at Lyme, a stunning property in Cheshire that we visited while living up north. I love looking into the past so this little book is a real treat. I'll be sending it to my grandmother to read once I'm done as it's something I know she will enjoy too.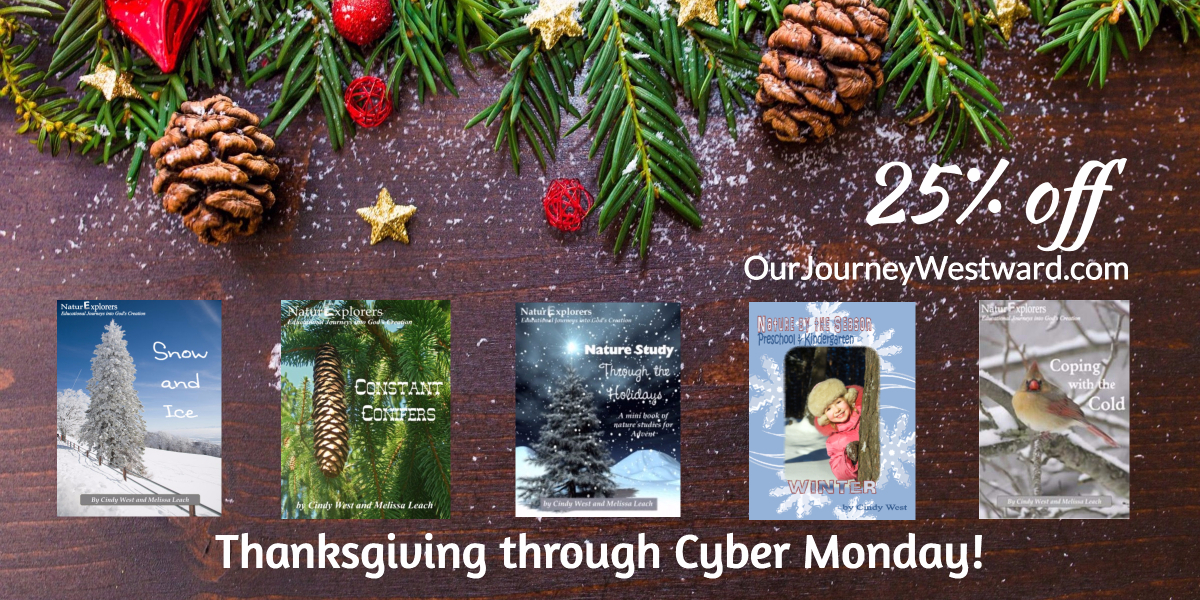 Cindy has some wonderful winter nature unit studies if you are looking for something appropriate for the season. We have used a couple of them and they are wonderful. I can highly recommend them. I'm quite liking the look of the Nature Study Through the Holidays.
Right lovelies, I'll love and leave you for today. Hope you all enjoy a cosy evening.