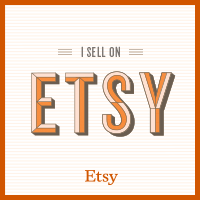 Finally! I signed up to Etsy with great intentions in May 2013 - but my goodness was I ever daunted! It has taken me all this time to get shipping and policy info in place - that's what totally froze me in my tracks :)
But I'm there now - Under An English Sky has an Etsy shop - Wooo-hoo.
You can visit and have little browse HERE if you want, or you can have a look at my mini Etsy on the right, or you can simply click on the 'Under An English Sky Shop' tab at the top.
So the plan is to add to the shop slowly. I have no great illusions of making millions, but you know what? It has always been a dream of mine to one day own my very own habby. Oh to sell yarns, notions, needles and all sorts of stitchy things! To have a little spot to give classes, make new friends and giggle and drink tea together - all while creating lovely things.
So although it is not yet possible to physically have that little dream shop, I can start with my very own online dream shop :)
Any tips from seasoned Etsy-ers are MOST welcome ;)